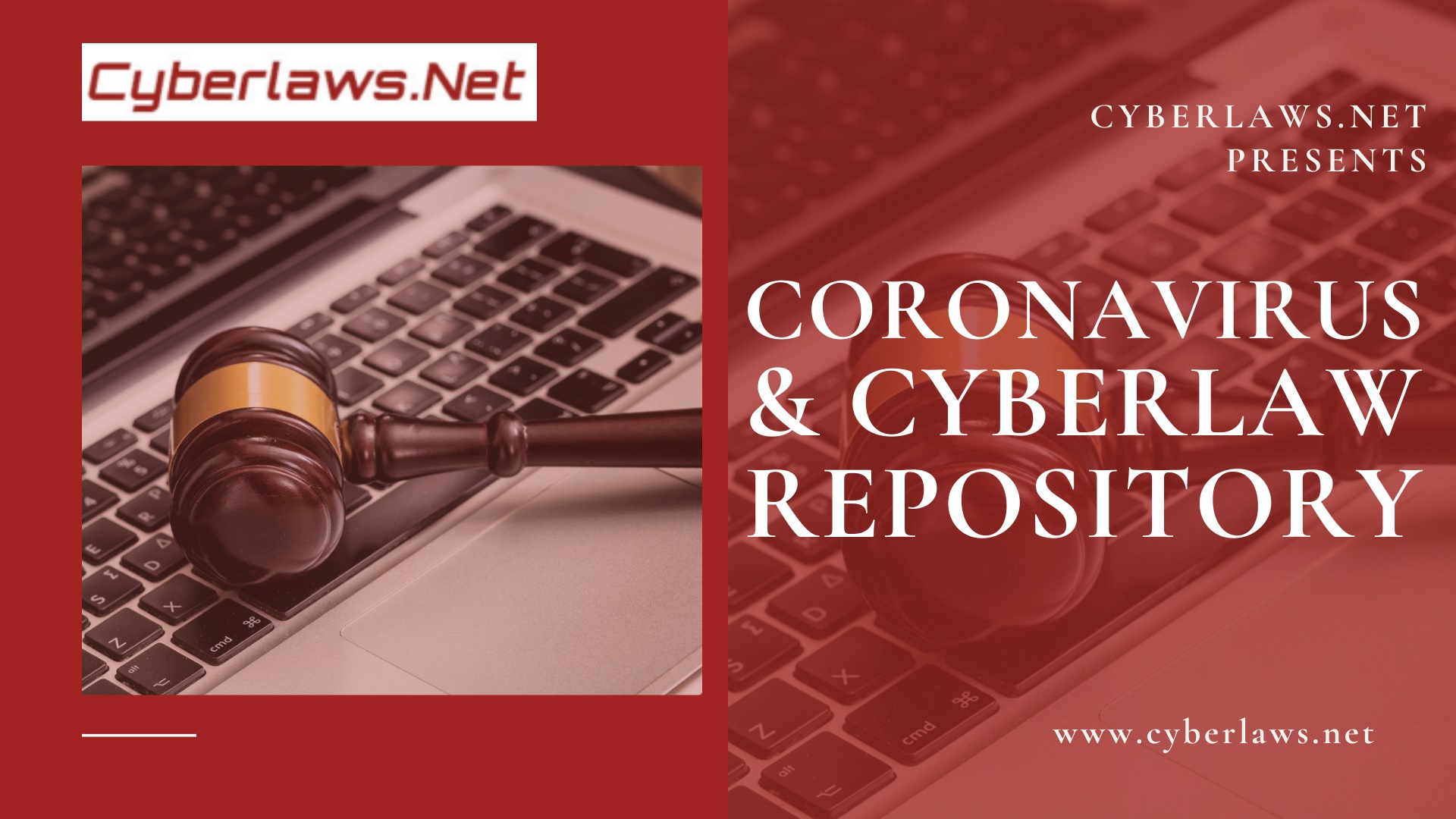 Welcome to Coronavirus & Cyberlaw Repository, which aims to track down important cyber legal developments at global level ,given the advent of coronavirus.
This page aims to collate all the important and significant coverages in the public domain pertaining to intersection of coronavirus and cyber legal, policy and regulatory issues.
Coronavirus has already been declared as pandemic by the World Health Organization. As on 26 June 2020, 05:30 GMT+5:30, this pandemic has seen 9,454,051 confirmed cases in 216 countries. At the time of writing apart from being an unprecedented public health emergency, Coronavirus age is also throwing large number of cyber legal, policy and regulatory issues.
In this page, we are collating some of the important cyber legal, policy and regulatory issues raised in the Coronavirus age, as have been reported in the public domain.
USA
"Families First Coronavirus Response Act"
This bill responds to the coronavirus outbreak by providing paid sick leave and free coronavirus testing, expanding food assistance and unemployment benefits, and requiring employers to provide additional protections for health care workers.
Senate Passes Paid-Leave Bill to Combat Pandemic, Turns to Administration's Stimulus Plan
Proposal for $1 trillion in spending to combat the coronavirus pandemic, including aid for airlines and direct payments to American households, after passing a paid-leave bill that President Trump signed
United Kingdom

The Health Protection (Coronavirus) Regulations 2020 The U.K
The Secretary of State makes these Regulations in exercise of the powers conferred by sections 45B, 45C, 45F and 45P of the Public Health (Control of Disease) Act 1984(1).
IL PRESIDENTE DELLA REPUBBLICA Vistigliarticoli 77 e 87 dellaCostituzione;
President of the Republic, speaking to citizens about the Covid-19 emergency, the Constitution provides the Government "with the authority and the power to take decisions" in these exceptional circumstances, always coordinating its action with the Regions and taking into account guidelines from the scientific community.
The PCM, by his own decree, implementing Decree Law 6/2020, imposed restrictive measures on those living in the most affected Italian areas.
Public health and immigration officers will be able to detain people suspected of having Covid-19 and exact £1,000 fines for refusing tests under emergency powers rolled out by the UK government.
France – Décret n° 2020-260 du 16 mars 2020 portantréglementation des déplacementsdans le cadre de la luttecontre la propagation du virus covid-19
Spain
Article 20 of the decree, it refers punishments for going against the order to article 10 of the states of alarm, exception and siege law (Law 4/1981).
India
THE EPIDEMIC DISEASES ACT, 1897 ACT NO. 3 OF 18971 [4th February, 1897.]
Singapore
Guanines issued by Ministry of Health, Singapore for Covid-19
The Government of Canada has created the infrastructure to respond to the public health threats of the virus, and is well prepared to act—in collaboration with provincial and territorial governments and international partners—to minimize the health, economic, and social impacts of this rapidly evolving public health issue.
Australian Health Protection Committee
New Zealand
New Zealand residents and citizens (and their children and partners) are permitted to enter New Zealand
Poland

Jordan
King Abdullah approves law giving government sweeping powers to combat the spread of the new coronavirus.
6 tips to working from home during the Coronavirus lockdown
Coronavirus concerns prompt some companies to let employees work from home
Slack CEO Stewart Butterfield on company earnings and working from home amid coronavirus outbreak
Expert shares advice on working from home amid coronavirus concerns
CBSN Bay Area Interview: Technology Needed To Work-From-Home Amid Coronavirus Outbreak
Working from home during the coronavirus pandemic in Switzerland
PM Boris asks Brits to stop 'non-essential contact' and work from home as coronavirus cases rise
Coronavirus: Brits work from home as businesses adapt to virus pandemic
Coronavirus: How can you be productive while working from home?
Coronavirus: UK Firms Ask Staff To Work From Home
Tech Companies Tell Employees to Work From Home to Prevent Coronavirus Spread
Tips for working from home during the coronavirus pandemic
Employees facing challenges working from home amid coronavirus outbreak
Microsoft tells workers to work from home amid coronavirus concerns
Box CEO increases work-from-home in response to coronavirus
Working from home amid spread of coronavirus
Working amid coronavirus: What's best for employees and employers
Disclaimer: Kindly note that the present Page is only a collation of selected handpicked information sources which are covering some latest developments on legal, policy and regulatory issues pertaining to intersection of coronavirus and cyberspace issues. The said list is neither complete nor comprehensive, but is only an illustrative list that keeps you updated about the latest developments in this sector.